A Message from Toni Weschler
Welcome to TCOYF.com, the official companion site of my book, Taking Charge of Your Fertility. Here you'll have access to a full-featured charting app, our vibrant TTC community, informative articles, and helpful tips and interesting tangents like the one below from yours truly!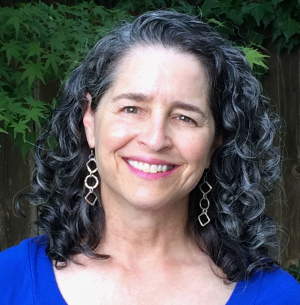 Toni's Tips and Tangents
Quick! What do all of these female body parts have in common? Fallopian Tubes, G-spots, Skene's Glands, Bartholin's Glands, Gartner's Ducts, Graffian Follicles, Pouch of Douglas, Glands of Montgomery, and Hydati of Morgani? If you said that most of them seemed mildly unappealing, you'd be partially right. But let's be honest, what is rather astounding is that every single one of them is named after a man. So in essence, at least nine parts of the female body that reside in the pelvis (one of the most intimate areas on a woman's body), are named by the men who identified them! Along these lines, I've often been fascinated with the power of language to impact a person's sense of self. [...]
For those of you old enough to remember when movies cost less than $4.00 at theaters (gasp), you no doubt remember "Annie Hall" one of the most memorable movies exploring male-female relationships and sex. One classic scene exemplified the difference between men and women: "How often do you have sex?" asked their respective therapists. "Hardly ever, maybe three times a week," Alvy whined. "Constantly . . . I'd say three times a week!" Annie complained. A woman's physical experience of sex is quite different from a man's simply because her clitoris is located outside of her vagina. This one fact can dramatically affect every aspect of her emotional and physical sexuality. My friend Bill explained it best when he casually [...]
Get the Book
Taking Charge of Your Fertility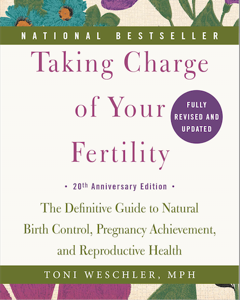 Are you unhappy with your current method of birth control? Or are you demoralized by your quest to have a baby? Do you also experience confusing signs and symptoms at various times in your cycle, but are frustrated by a lack of simple explanations?
This invaluable resource will help you find the answer to your questions while giving you amazing insights into your own body.
Get the Book
Chart For Free
Chart Your Fertility Online
Powered by the latest scientific research and utilizing Toni Weschler's three decades in the field, OvaGraph is designed to help you take charge of your fertility naturally. Chart with us absolutely free.
Chart For Free