A Message from Toni Weschler
Welcome to TCOYF.com, the official companion site of my book, Taking Charge of Your Fertility. Here you'll have access to a full-featured charting app, our vibrant TTC community, informative articles, and helpful tips and interesting tangents like the one below from yours truly!
Toni's Tips and Tangents
Remember the days when you'd meet a stranger at a social event and one of the first questions you'd usually ask each other is along the lines of "And what do you do?" Who am I kidding? I don't either. The pandemic has ended any semblance of normalcy for all of us. But stay with me for a second. Try to imagine back to when no one wore masks and we actually enjoyed socializing. When I would respond that I was a women's health educator specializing in fertility, invariably I'd get any number of questions along the lines of the following two: Is it true that women are most fertile on Day 14? When is a woman most fertile in [...]
So what if I told you that a woman carrying twins can look down at her belly and know that she is carrying the actual physical cells of half of her future grandchildren? First of all, how is that even possible? And more specifically, if it is possible, why only half? I'll give you a clue to the second question. She is carrying a boy and a girl. Does that tell you anymore? If she were carrying two girls, she would be carrying all of her potential grandchildren. And if she were carrying two boys, she'd be carrying none of them. I know, I know, not fair. But stick with me on this. Every female fetus, including your mom, developed [...]
Get the Book
Taking Charge of Your Fertility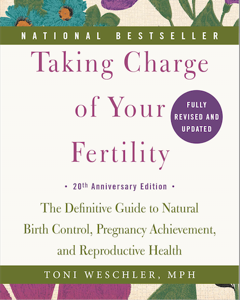 Are you unhappy with your current method of birth control? Or are you demoralized by your quest to have a baby? Do you also experience confusing signs and symptoms at various times in your cycle, but are frustrated by a lack of simple explanations?
This invaluable resource will help you find the answer to your questions while giving you amazing insights into your own body.
Get the Book
Chart For Free
Chart Your Fertility Online
Powered by the latest scientific research and utilizing Toni Weschler's three decades in the field, OvaGraph is designed to help you take charge of your fertility naturally. Chart with us absolutely free.
Chart For Free